Sydney Wheeler, an economics major and pre-med student at the University of Mississippi, likes how the Stamps Scholarship enables her to take a different path to medical school, rather than the more common route, majoring in biology or chemistry.
Being a Stamps Scholar has enabled her to pursue other passions while keeping her interest in health care issues at the center.
"I'm so grateful that the Stamps Scholarship has helped me recognize all my passions. This scholarship has impacted my life by enabling me to explore academically, leading me to realize that I don't really want to be a biology major. I want to take a path that many others don't take, and without Stamps, it would not be possible," Wheeler said.
"Because of its investment in me, my cohort and the university, the Stamps family and the Stamps Scholars program has helped Ole Miss create an environment where excellent students can thrive," she continued. "I would not be at Ole Miss and who I am today without Stamps. A lot of blessings in my personal life are due to this opportunity, and I am truly grateful."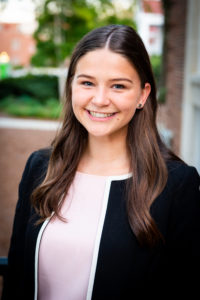 UM is the only Mississippi university and among only six Southeastern Conference schools that awards Stamps Scholarships to selected students. Of the 37 partner universities, Ole Miss has the second-largest cohort across the U.S. and the United Kingdom in the Stamps Scholars Program.
Stamps Scholars are chosen based on academic excellence, leadership experience and exceptional character. At UM, each scholarship covers the full cost of attendance and awards students a $12,000 stipend for unique educational pursuits, including study abroad, research internships and academic conferences.
Wheeler, a senior from Bowling Green, Kentucky, said the Stamps Scholars program and the Sally McDonnell Barksdale Honors College have made her feel appreciated at Ole Miss.
"I love being surrounded by people who care about me and not just as a number. The Honors College wanted to invest in me not only financially but also personally, which really made me feel valued," Wheeler said.
"All the people in the Honors College have made me see that I am wanted and that my goals can be accomplished at Ole Miss," she continued. "Dr. Jennifer Parsons [associate dean for communications and instructional assistant professor], Professor Ashleen Williams [senior Barksdale Fellow in the Honors College] and the whole Honors College staff have made it known to me that they want to help me with all the big things that I can do. To me, that is also the point of Stamps: they want to help you reach your big dreams both financially and personally."
In addition to supporting her education on campus, Stamps resources have enabled Wheeler to pursue internships that combine her interests in economics and medicine.
"I am interested in how our health care system is impacted by finances and economics. I was able to shadow in the transplant center at Houston Methodist and see and do some awesome things while I was there, such as holding a human heart and watching surgeries. I was also able to ask a ton of questions about the transplant system — questions that are hard to ask if you are not in the room," Wheeler said.
"This summer, I am hoping to work on a project in long-term care and find an internship that combines those two elements of my major. The Stamps Scholarship will be a major part of pursuing that goal."
Georgia native Roe Stamps and his late wife, Penny, launched the Stamps Scholarship in 2006. Though Penny Stamps died in December 2018, her legacy continues through the Stamps Scholars community, which has grown into an international network of more than 2,600 scholars and alumni.
For more information on the Stamps Scholar program, visit https://stampsscholars.org.
By Eva Marie Luter/UM Development