Bill Jordan's most recent gift to Ole Miss Athletics represents his desire to see current and future student-athletes succeed.
"Even here at our office, I do everything for the next generation," said Jordan, creator and CEO of Realtree, the nation's leading line of camouflage patterns. "We've been very fortunate and blessed in this business. Knowing all the things that Ole Miss has going on with the renovations and needing to remain competitive facility-wise, we were happy that we were able to give back."
The Jordans' $1 million gift is directed to CHAMPIONS. NOW., the Ole Miss Athletics Foundation (OMAF) fundraising campaign focused on improving facilities for student-athletes. In 2015, another $1 million gift from the Jordans named the practice field inside the Olivia and Archie Manning Athletics Performance Center at the University of Mississippi.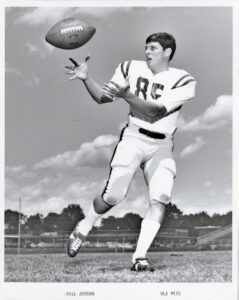 Jordan, the Columbus, Georgia, native, who caught Archie Manning's passes as wide receiver from 1969 to 1971, said his gifts to Ole Miss stem from friendships he developed as a former player and UM graduate.
"Having played there and having maintained connections with my former teammates whom I have an opportunity to see at football games, reminds me of the brotherhood I had when I played sports there and reinforced our commitment to Ole Miss," said Jordan, adding that he has been well acquainted through the years with Ole Miss coaches and athletics directors, including Vice Chancellor for Intercollegiate Athletics Keith Carter.
"Keith has been instrumental as not just as AD but as a friend. I've known Keith for a long time, even before he got the AD title," Jordan continued. "He's been very good to our family and he's a big hunter, so we have a feel-good connection. When Keith and I talk, about 50% of the conversation is on hunting."
Carter said he greatly appreciates his relationship with the Jordan family: Bill and his wife, Shannon; son Tyler, a 2016 UM graduate; daughter Graycen, a high school senior; and son Colton, 14.
"The Jordans are a very special family and have been so good to Ole Miss over the years.  You can clearly see through their passion and energy that they truly care and believe in the things we are doing here in Athletics," Carter said. "It has been so rewarding getting to know Bill on both the professional and personal level. I can't stress enough how important he and his family are to our programs.
"This gift will help us continue to pursue our goal of winning SEC and national championships," he continued. "We look forward to our relationship with Bill, Tyler, and the rest of the family for a long time. They are the epitome of Ole Miss Rebels!"
In Jordan's family, his son is the next generation for Realtree. Tyler Jordan is director of partnerships and conservation efforts for the company. He and his wife, Grace, a UM graduate and pharmacist, are expecting their first child (and future Rebel) in March.
Tyler Jordan expects to continue his father's legacy of private giving to Ole Miss Athletics: "A lot like our Realtree family, we love our Ole Miss family. It's always a great getaway for our family to go to Oxford, not only during football season but also any chance we get. We love the community and the Square, and we still have a lot of friends who live and work there," he said.
"I think it's awesome that we're giving back and it creates more opportunities for us to go to Oxford even more frequently."
Bill Jordan agreed, saying he enjoys reconnecting with his teammates who have remained in Oxford.
"That's the tie to the school – our friends out there," he said.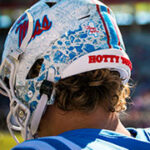 Bill Jordan graduated from Ole Miss in 1973 with a bachelor's degree in business administration and returned to Columbus to work at his family's boat dealership. In 1983, he started Spartan Archery Products in the back room. At the same time, he began designing and developing what would become Realtree, the world's most effective camouflage pattern, which he introduced at the 1986 Shooting, Hunting and Outdoor Trade (SHOT) show.
In the late '80s, Jordan introduced the first Team Realtree logo. Today, Realtree employs more than 80 people and boasts more than 2,500 licensees of its patterns. Its logo adorns thousands of outdoor and lifestyle products.
In fact, helmets embossed with a Realtree fishing pattern and worn by the Rebels in the 2022 football game against Kentucky, won UniSwag's Helmet of the Year among all NCAA helmets and was featured on the set of SEC Nation, the SEC Network's pregame show.
Jordan's achievements earned him induction into the Georgia/Alabama Chattahoochee Valley Sports Hall of Fame and the Ole Miss Alumni Hall of Fame. In 2012, the Ole Miss Chapter of the National Football Foundation and College Hall of Fame honored him with its Distinguished American Award.
To make a gift in support of Ole Miss Athletics, visit CHAMPIONS. NOW. or contact OMAF CEO Denson Hollis at dhollis@olemiss.edu or 615-957-4372.
Bill Dabney/UM Foundation