The University of Mississippi's Patterson School of Accountancy is getting a boost for its building fund from a familiar face who has deep ties to the university. In fact, his entire family does.
Joe Weller, a 1961 graduate and Patterson School Hall of Fame member, has made a $250,000 gift toward the school's new home.
"I've been a supporter of Ole Miss, and we've been talking about the gift for the last several years; I was just waiting for the right time," Weller said of the donation. "We're wanting to get the new school built.
"The accounting school has a tremendous reputation, one of the best in the country," he continued. "We want to be sure we stay in that position. It didn't feel like our facilities matched what our program did. It will be in a great location, and it'll be the first building people see when they come across the bridge to the campus."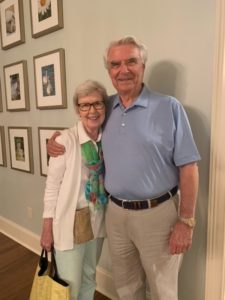 Growth in student enrollment is driving plans for the 110,000-square-foot building to be located at the corner of University Avenue and Grove Loop overlooking the iconic Grove — prime campus real estate. The Patterson School is a national powerhouse ranked No. 8 in the country and No. 1 in the SEC.
Mark Wilder, dean of the Patterson School, said that it's because of the generosity of people like Weller that the new school can be constructed.
"We are grateful for all that Joe has done for our school over the years and appreciate his willingness to help us in such a significant way with funding for our new building," he said. "This new facility will be wonderful for our students and will help us tremendously in recruiting top talent to the Patterson School."
The new, four-story facility will feature tiered auditoriums and classrooms, study areas, conference rooms, administrative and faculty office suites, and outdoor balconies and terraces.
Raised in Clarksdale, Mississippi, Weller lives in Memphis, Tennessee, with his wife, Ann, whom he dated while they were both in school. Weller served as vice chair of Morgan Keegan and Co. Inc., a company he co-founded in 1969, before retiring in 2006. He and his wife have three children — two of whom are UM alumni, Joseph "Thom" Weller and Laurie Weller. The former also pursued a career in accounting after graduation.
In fact, father and son had the same professor while in school years apart — the renowned H.E. "Gene" Peery. Both referred to him as "their favorite teacher of all time."
"He found me my first job after graduation," recalled the elder Weller. That first job was as an accountant at Minor and Moore CPA Firm, which was run by another UM alumnus, 1937 graduate Lucian Minor.
Eventually, Weller's own firm, Morgan Keegan, would become one of the largest independent full-service wealth management and capital market firms in the country.
In 2008, Weller joined the ranks of the accounting school's hall of fame, enshrined alongside Ole Miss accounting legends like Peery and Minor.
"Joe has had a tremendous career with Morgan Keegan and is so deserving of this honor," Wilder said of the induction 14 years ago. "We are proud to have him in our Patterson School Hall of Fame."
Weller served as Morgan Keegan's chief financial officer for 37 years before retiring from the position in 2006. Throughout his long career, Weller served in various industry positions with the National Association of Security Dealers, Securities Industry Association and American Institute of Certified Public Accountants, and as president of Financial Executives International.
Ultimately, for Weller, the reason for giving back was simple.
"It was always the school I wanted to attend, and it's always been part of our family," he said.
The Patterson School of Accountancy is nationally ranked for the 10th consecutive year of top 10 rankings. Over the past three years, the school has a total of eight recipients of the Elijah Watts Sells Award — the most prestigious CPA exam distinction worldwide. Over the 2020-2022 time period, this ranks Ole Miss easily No. 1 in the SEC in number of Sells Award recipients and tied for fourth nationally.
To learn more about supporting the Patterson School of Accountancy, contact Jason McCormick, director of development, at jason@olemiss.edu or 662-915-1757. To make a gift, visit https://give.olemiss.edu.
By Andy Belt/UM Foundation
Editor's Note: University of Mississippi alumnus and donor Joe Weller passed away on December 15, 2022, after this story was written. The university extends heartfelt condolences to his family and friends.